2019 South Carolina Low Country / Semper Fi Come-Around After Action Report Posted (20190525)
Posted: 5/25/2019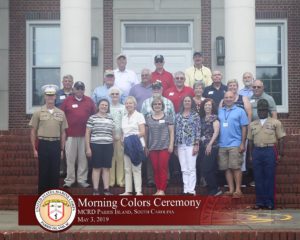 30 April – 5 May 2019
We enjoyed near-perfect weather for our gathering in the South Carolina low country near the Parris Island Marine Corps Recruit Depot and vicinity.  This event followed on the heels of the 20th Anniversary of the founding of the Chapter that was held the previous week at Monte Sano State Park, Huntsville, AL. We had 27 chapter members and guests attending with 14 rigs.  Camp Lake Jasper, near Hardeeville, SC served as our base camp. The firsties provided a welcome dinner featuring a selection of Low Country Bar-B-Q fare prepared by Jim 'N Nick's of Bluffton, SC.
Firsties were Tom ('70) and Rose Wolfe. They were ably assisted by co-firsties Andy ('72) and Eva Wehrle.  Chapter members attending the event were:  Jim ('81) and Catherine Heffernan, Glenn Shindler '64, John ('77) and Eileen Madaio, Don ('74) and Susan Baldwin, Walt ('59) and Chris Baskin, Jim Swoope '70, Charles ('70) and Susanne Lewis, Bob ('61) and Maryjane Metcalf, Scott ('78) and Pam ('80) Rodgers, Scott Goodson '78, Jim ('59) and Marie Roberts, Kathy Shanebrook '80 and Jerry Cribb and Keith ('64) and Karen Waldrop.  Joining us as guests were Tom and JoAnn Nichols from Pooler, GA.  Tom was Tom Wolfe's Plebe year roommate who left USNA at the end of Plebe year to attend seminary. He subsequently returned to the Navy and served 24 years as a Navy chaplain.
The highlight of the come-around was a comprehensive tour of the Marine Corps Recruit Depot at Parris Island, SC (MCRDPI).  Staff Sergeant Lucas Padilla, a USMC DI (drill instructor) from Lafayette, LA accompanied us throughout our visit and provided extraordinary insight into all phases of Marine Recruit training. This outstanding tour occurred over a two-day period and included the following points of interest:
The legendary yellow footprints where Marine recruits experience their initial encounter with U.S. Marine Corps recruit training.
Several monuments significant to the history of both the S. Marine Corps and MCRDPI.
Observation of recruits learning and practicing proper rifle firing technique in a dry firing environment before they go to the rifle range for Qualification week.
Tour of the obstacle and confidence courses at Leatherneck Square.
Tour of typical Recruit training living areas.
Lunch in a mess hall – during lunch the Commanding General (CG), MCRDPI, BGen James Glynn, USNA '89 visited with us, offered pertinent commentary pertaining to current recruit training philosophy, recruiting, etc., followed by an informal Q & A session.
USMC Recruit graduation parade – of particular note for this event is the fact that Scott Goodson's nephew was a member of those newly minted Marines who had successfully completed Marine Recruit training and who marched in this parade.
Morning colors ceremony on graduation day – attending chapter members were seated in the VIP section and recognized by the CG, MCRDPI during the ceremony.
Visit to the Parris Island museum.
Visit to the Santa Elena ruins near the Parris Island golf course – the site is a National Historic Landmark, important for its association with the 16th century conflict between Spain and France for control of the New World. The site is also considered archeologically significant.
Lecture by Dr Stephen Wise, Director of the Parris Island Museum and Cultural Resource Manager for MCRDPI; topic – South Carolina Low Country history (early settlement by French and Spanish through establishment of MCRDPI)
Individual activities during the come-around included a golf outing organized by Jerry Cribb (husband of Kathy Shanebrook '80) and visits to beautiful Beaufort, SC.  Also, during Happy Hour on Saturday, Bob Metcalf shared the following WWII memorabilia with the group, along with brief comments pertaining to how he became in possession of each:
Replica of the Japanese surrender agreement executed aboard the USS Missouri (BB-63).
Ship's plaque from the German pocket battleship Admiral Graf Spee.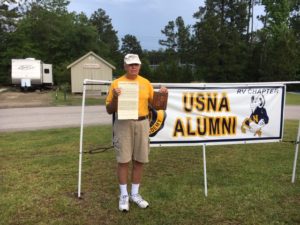 Saturday evening's program featured a typically superb shared pot luck dinner preceded by "frozen concoction night" where the firsties provided ice and a frozen concoction machine and invited participants to prepare and share their favorite frozen concoction with their shipmates.  Mother Nature also contributed by providing a beautiful rainbow that "framed" the Chapter banner immediately prior to the evening's activities.  We concluded a delightful evening of splendid fellowship by singing Navy Blue and Gold as Mother Nature once again announced her intent to rejoin the party with a few rumbles of distant thunder.
The come-around concluded Sunday morning with the firsties providing light morning refreshments prior to participants setting their respective special sea and anchor details in preparation for getting underway.  As usual, our campers did not allow the few and infrequent moments of what Marines fondly refer to as "liquid sunshine" that occurred throughout this event to dampen their enthusiasm for gathering "where to or three shall meet…".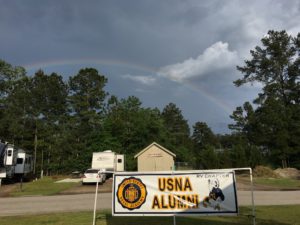 «
2019 Navy Memphis Football Come Around
Upcoming Events
There are no upcoming events.