Navy Memphis Football Come Around AAR (20191003)
Posted: 10/3/2019
After-Action Report
Memphis ComeAround
September 24-29, 2019
AgriCenter, Cordova, Tennessee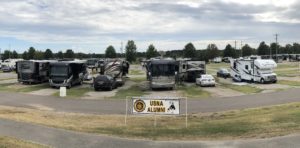 'Nita and Jack Parry '67, Firsties
Eva and Andy Wehrle '72, Co-Firsties
Attendees:
Dee and Bill Bradford '63
Patti and Jay Williams '67
Susan and Don Baldwin '74
Beth and John Vuolo '77
Catherine and Jim Heffernan '81
All but Beth and John Vuolo attended the Watts Bar ComeAround and thereafter traveled independently to Memphis. Folks arrived at the AgriCenter on Monday with most arriving on Tuesday. That evening carpool outing to Soul Fish restaurant so that 'Nita could have some catfish was joined in by most of the attendees creating a great start to a fun filled few days.
Wednesday, Sept 25
Morning Coffee with donuts from Gibson's got the juices flowing before folks ventured out to see Memphis on their own. The Vuolo's joined the group on Wednesday for their first experience with the chapter and a ComeAround. That evening, we went to the famous Charlie Vergos' Rendezvous for a welcome reception for Naval Academy alumni, parents and friends including world famous BBQ along with beer, wine, soda and sweet tea. We were addressed by Craig Washington, EVP of the Alumni Association, Chet Gladchuck, Athletic Director, and the new Commandant, Captain TR Buchanan.
Thursday, Sept 26
Again, after morning coffee, we all explored Memphis on our own until the Navy v Memphis tailgate at the Liberty Bowl Stadium. We were seated together in the visitor's section given to USNA ticket office. The game looked like it was going our way in the first half. After halftime was a different story. The stadium played Navy Blue and Gold over the loud speakers which gave the loyal fans and team a raucous rendition of the alma mater.
Friday, Sept 27
A special day that everyone will remember fondly was a full day spent at the Peabody Memphis Hotel where we gathered in the lobby for the daily parade of the ducks down from their rooftop quarters to the lobby fountain. The event was made special by the comments of the Duckmaster. Our group bought out the 2-hour history tour of the hotel. The tour was guided by none other than the Duckmaster himself. A great tour guide and musical history buff, Doug made the stories come alive with all the different people and music which makes Memphis and the Peabody famous. A group photo was taken on the rooftop in front of the Duck Palace.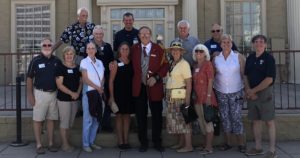 Saturday, Sept 28
Saturday morning we were provided a special treat by Eva Wehrle serving biscuits and gravy for breakfast before we all spent one last day visiting the sites of Memphis on our own. Three of our attendee campers departed early, eager for home after the two consecutive ComeArounds.
Sunday, Sept 29
This was the departure day for the remainder of campers. By mid-morning the line of our 7 sites were empty.
Respectfully submitted,
'Nita and Jack Parry '67
«
Navy Memphis Football ComeAround POD 20190827
Upcoming Events
There are no upcoming events.