2019 Watts Bar Come Around AAR (20191013)
Posted: 10/13/2019
Watts Bar 2019 After Action Report
Our campers were greeted with unseasonably hot weather for the start of our first ever September version of the annual Fall Watts Bar Come-around, meeting at Hornsby Hollow Campground on the shores of Watts Bar Lake from 9/16-9/22. Activities started with Happy Hour (no surprises there!) followed by a BBQ dinner with sides and ice cream provided by the firsties, Jim (74) and Lynne Connors. After dinner, the crew moved to the campfire to relax and share jokes and sea stories.
Tuesday morning our group convoyed up to the Cumberland Plateau for a buffet lunch at the Cumberland Mountain State Park, followed by the electrifying adaptation of Mel Brooks' monstrously funny film "Young Frankenstein" at the Cumberland County Playhouse. The play left us all in stitches, and for the next few days you could hear attendees singing "Puttin' on the Ritz."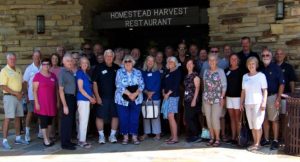 Wednesday morning, Eva and Andy Wehrle (72) with classmate Vanessa and Tim Halliahan (72) provided a hearty campsite breakfast for all of us. After breakfast,  a board meeting followed by a business meeting for all hands was conducted. In addition to getting updated on chapter activities, we were also provided with USNA and USNAAA updates from Rich Cataldi (69), the Central Region Trustee. Jack Parry (67) also awarded our firstie, Jim Connors (74), with a "S'More Fun" hat to commemorate the tons of s'mores that Jim has provided our chapter over the 16 years he has been a firstie.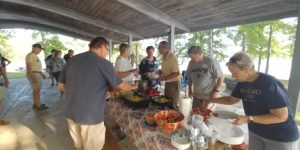 Following all that business, we got down to real business as Jack Parry led us in another hilarious and fun chapter auction. These have turned into major fund raisers for our chapter, and they always produce laughs aplenty in addition to helping keep our chapter coffers full. That afternoon, the firsties led our group in a class on "No-Bake Freezer S'mores, with finished products displayed that night. After Happy hour, our campers were treated to a Pizza Dinner and more ice cream provided by the firsties. And after dinner, we again moved to the campfire for the 2nd Annual Flag Retirement Ceremony which was traditional, solemn and emotional as both family members and classmates/shipmates were remembered. We retired about 20 American flags in a dutiful manner with patriotic music as well as an introduction by John Madaio in which each section of the first flag to be retired was "sent off" with a famous quote from our military and Naval history.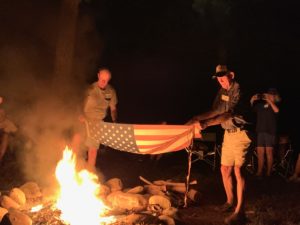 Thursday morning, the chapter set off on hikes led by the firsties, with most of the crew electing to follow Lynne to climb Twin Rocks Trail, the more challenging hike. Jim took a smaller group on an easier hike on the Piney Falls Trail. Following the hikes, we broke into 2 groups and enjoyed boat rides on beautiful Watts Bar Lake. This event was canceled last year due to rain, and the previous year we were greeted by heavy seas, strong winds, and cold temperatures. So our boating this year was much more relaxing with calm seas, light winds, and much warmer temperatures. For Happy Hour, since there was no "Margaritaville Machine" available, the firsties provided a gallon of margarita, a gallon of Painkiller, and a gallon of Long Island Ice Tea. No one seemed to miss the Margaritaville Machine! Following drinks, we all enjoyed a fantastic culinary treat with another famous Pot Luck dinner in the pavilion. After feasting on that, we again moved to the campfire where we enjoyed another dose of camaraderie and s'mores.
Friday morning, a small group of campers took their bikes to the Eureka Rail Trail and enjoyed an 8 mile bike ride. The remainder of our group adventured out to various local attractions to enjoy the day. After Happy Hour, our campers went to Uncle Gus's Smokey Mountain BBQ for an early dinner. After that we all settled back in to another evening in front of the campfire with more s'mores.
Saturday was a day to enjoy all the local sights, attractions, etc, or to just relax and enjoy time on the lake. That night, firsties provided a hot dog dinner with baked beans, cole slaw, and potato salad. After dinner, the show moved to the home of Jim and Lynne for the grand finale fireworks show. This year Jim put the entire $300 firstie stipend towards fireworks, and our members were treated to an hour long show. Scott Goodson (76) provided accompaniment with his cannon. And after the barrage was concluded, we had a giant bonfire to burn the carcasses of all the fireworks shot off that night. And that provided some last minute excitement as several 'duds' went off during the bonfire. After sufficient "oohs and aahhs" our crew returned to their RV's and made plans to get underway the next morning. We said our farewells on Sunday morning with some chapter rigs moving on to the far western side of Tennessee for the Navy at Memphis football game and come-around.
Watts Bar attendees included:  Dee and Bill Bradford '63; Karen and Keith Waldrop '64; Stevie and Hank Giffin '67 + Pattie and Jay Williams '67 + 'Nita and Jack Parry '67; Vanessa and Tim Hallihan '72 + Eva and Andy Wehrle '72; Pam and Lee Van Oss '73;  Susan and Don Baldwin '74 + Come-Around Firsties Lynne and Jim Connors '74; Sandy and Scott Goodson '76; Eileen and John Madaio '77; Catherine and Jim Hefferman '81 + Tim and Joan Platz '81; and Associate members Mari and Jerry McIlwain LSU '65; in addition Pat and Barbara Bisson (friends of firsties) and Nancy and David Sallee (friends of Wehrles).  Sharon and Larry Weaver '59 joined the luncheon and theater performance from their home nearby.  USNAAA Central Regional Trustee Rich Catalina '69 joined the Board and General membership meetings.
«
Navy Memphis Football Come Around AAR (20191003)
Upcoming Events
There are no upcoming events.