2020 Key West After Action Report (20200219)
Posted: 2/19/2020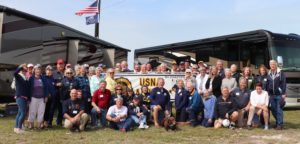 After Action Report
By Firsties: Jack and 'Nita Parry with two small Come Arounds (Cincinnati and Memphis) under their belts and  attending 7 Key West Come Around attendees before travel and schedules at home allowed the time to put into KW.
Conduct of Come Around:
Key West Come Around 2020 began with the early arrival of the Parrys, the Heffernans and the Metcalfs. We all were there to coordinate the arrival and placement of rental equipment as well as RV layout and check on any last minute coordination with the activity venues. One very real concern was the 100% turnover in staff positions under the MWR banner including Navy Getaways reservations, MWR Campground director, NAS MWR director, Food and Beverage Director of the Truman Beach Grill, and the Fitness director of the Bathhouse and also a new NAS Key West CO.
20th KW Come-Around brought the largest chapter gathering ever with 64 participants, 24 RVs + those staying in Key West.  Members joining the fun were: Just as 2001, Marion Conery (widow of Frank Conery '58) attended as did Frank's USNA roommate Kay & Tom Powell '58 and Maryjane & Bob Metcalf '61 who have been Key West "Firsties" for 6-years since 2004; Dee & Bill Bradford '63; Kitty & Mike Bolier '67; Elizabeth & Mike Currie '67; Nina & Pete Dabbieri '67 plus their California guests, Barbara St John and Harry Axelrod; Stevie & Hank Giffin '67; Barbara and Bill McCracken '67; Pat & Jim McNeece '67; "Firsties" 'Nita & Jack Parry '67; Patti & Jay Williams '67; Vicki & Mike Tkach '68; Val & Gary Polansky '69; Marc Farris '70 & guest JJ Tucker; Su & Dale Gange '70; new chapter members Linda & Tom Howard '70; Suzanne & Chuck Lewis '70; Rose & Tom Wolfe '70; Vanessa & Tim Hallihan '72; Eva & Andy Wehrle '72; Lynne & Jim Connors '74; Jacquie & Gregg Welstead '74; Wendy & Kirk Daniels '75; Sandy & Scott Goodson '76; Cindy & Pete Miller '76; Eileen & John Madaio '77; Jenny & Dick Findlay '78; Pam '80 & Scott Rodgers '78; Catherine & Jim Hefferman '81; Joelle & Tom Keane '87.
Those arriving early got a wet welcome after overnight heavy rains that continued into an ugly start to KW Come-Around  weather of heavy rains & 25+ MPH winds.  USNA RV certainly had the REAL Southern Most Point to themselves as beach goers evaporated while RV motorhomes got mired in the wet ground.  There was no happy hour as there was very little happy on such an ugly day!
Day 1, Sunday Feb 2, was all about Sunday's Super Bowl plus final arrivals. Pam and Scott Rodgers hosted the Super Bowl watch party at their tent side motorhome with its external TV. Tim Hallihan created a Super Bowl grid with points by quarter. Any unassigned grids were marked bonus to the chapter. Attendees won all the quarter and final game scores. The chapter won in many other ways.
Day 2, Monday Feb 3, The "party week" began Monday morning with a welcome briefing of daily PODs, introductions plus each grad telling how they met their spouse in such a way that wouldn't find them sleeping on the beach that night.  We did not observe any sleeping bags on the beach that night. The chapter board meeting was held at noon. By 1600, folks were eager to see the five RVs which opened their doors for tours. Large rigs by the Rodgers and the Hallihans, medium rigs by the Heffernans and the Millers, and last but not the least, a pop-up by the Connors, the only rigs providing refreshments for the weary tourists. The Welcome Dinner by the Firsties of Publix Fried Chicken and Pot Luck sides was preceded by the first of many Sunset Happy Hours.
Day 3, Tuesday,  Feb 4, educational events included: USCG Intel presentation followed by touring CGC Kathleen Moore, an active USCG cutter, and joining the crew for lunch at the galley. Another Sunset Happy Hour was followed by the evening on our own in Key West.
Day 4, Wednesday, Feb 5, author Alex Pasquale's lecture regarding Cuban immigration history at San Marcos Institute on Duval Street, founded by Cuban exiles in 1871 and considered the "Cradle of Cuba's Independence Movement" followed by time to tour their exhibits and building. The morning was quite an eye opening history of Key West impact by Cuban immigrants. The tour was followed up by a lunch at the tent of Cuban sandwiches with rice and beans.  The Chapter celebrated 20-years of Key West Come-Arounds with a gala evening at the original location of dessert restaurant "Better Than Sex".
Day 5, Thursday, Feb 6, we all ventured to Chico's Cantina for either an early, 11:30, or late, 13:30, lunch seating as a way for Chico's to accommodate our large number of attendees.  Again the day was closed out with a Sunset Happy Hour.
Day 6, Friday, Feb 7, was met with a morning rain which delayed the start of the White Elephant Auction. The wet start did not dampen the enthusiasm of attendees who opened their collective wallets and set a new auction receipts record for the chapter's coffers of over $1,000. Thanks go to not only the enthused bidders but the generous donors of items for the auction. The remainder of the day was free to visit Key West except for the crew busily getting together the fish and grills for the Fish Fry bounty of Key West catches on Mike Currie's Tailhooker. With the sides provided by the Firsties, "What a meal!" To end all the fun, we cleared the tent's center of tables and danced to the music of the decades provided by the DJ JimmyJamz. This will be yet another highlight to remember the 20th Key West Come Around.
Day 7, Feb 8, Saturday, a Hangover Pot Luck Brunch in the morning.  Followed by the chapter members meeting and group photo.
Day 8, Feb 9, Sunday, About 1/3 of the attendees departed on Sunday to get a head start on traffic and other travel needs. The remainder enjoyed another day in Key West and another Sunset Happy Hour.
Day 9, 10 and 11, Monday – Wednesday saw a few departures each day while hangers on enjoyed their own favorite adventures in Key West before a final goodbye no later than noon Wednesday.
The Come Around was structured with lots of time to enjoy whatever Key West activity one favored in addition to implementing "where two or three shall meet and old tales be retold."  For more detail and pictures go to rv.usnachapters.net.
For future Key West Firsties here are notes from the planning files:
Key to managing our workload was the assignment of coordinating the fishing trips and the fish fry to Jim Heffernan and Hank Giffin who both took personal initiative to see that effort was successful.
Our planning was guided by a visit to "We've Got the Keys" an event planning agency which provided direction on where to look. Their service to be booking agents was outside our budget. Initial DJ contact occurred before June 2019. DJ selection resulted from web searches and proposals. Talked by phone in June before signing DJ contract dated in September & returned with deposit & signatures early October 2019. Thus 5 to 10-months of advance planning, negotiating & work to ensure plan.
USCG plan was about 14 to 16-months in planning thanks to government shutdown in 2019 when Jay made initial inquiry and plans for the visit. A thank you note was sent from the chapter to the CO and the USCG Seventh District Commander in Miami.
San Marcos Institute was worked on for 6+ months as other Cuban educational options simply didn't work.  Talked with Director in detail via phone and messages while in Thomasville, Georgia in early January 2020. Their Facebook page contained a message form which actually resulted in immediate and responsive answers from Marissa on the staff.
'Better Than Sex" initial planning was in February 2019 in person with the owners, finalized 6-months in advance.  Greatly helped that we've been regular customers for about 5-years now.
Chico's Canteen was Plan B up until Key West Harbour Yacht Club looked impossible in spite of work done for 6+ months in advance.  Blessedly, Chico's was flexible which was much easier when we divided into two seatings.  Our efforts were greatly helped that chapter has fairly long history with Chico's as that has become the "go-to" as they do handle the numbers and separate checks. El Siboney for the old timers is still very much a favorite.
Hard to make any progress between Thanksgiving & New Year's thanks to holiday issues in all locations. But…….if one waits until early November, choices and options seriously decreased as others have taken available space.
Our Planning Timeline:
JANUARY 2019:  Began making calls to sites in Key West to request appointments for researching Come-Around Options, with costs & availability, for February 2020.  Waited until week starting 7 JAN due to holiday season, which is very busy in Key West.
11 JAN 2019:  Departed Annapolis heading South while continuing phones calls to Key West sites (example:  Truman White House, KW Historical Society, ++++ for other educational presentations). Vast majority of these inquiries required up to half dozen phone calls/electronic messages as Key West truly does function/operate on KW time.
23 JAN 2019:  Metcalf's arrived in Key West and provided advance report of conditions.
FEBRUARY 2019:
1 FEB 2019:  Arrived Key West and went directly to NAS Truman after checking-in at Sigsbee.
2 FEB 2019: Appointment at Little White House
3 FEB 2019: Appointment with walking tour company
4 FEB 2019: Appointment at Lighthouse + Happy Hour evaluation
5 FEB 2019: Appointment with MWR KW @ Boca Chica to finalize 2020 dates
6 FEB 2019: Unable to schedule any appointments
7 FEB 2019: Talked with Chico's Cantina about 2020 while Chapter was there for lunch
8 FEB 2019:  No research possible due to Board Meeting, Chapter Meeting & Auction
NOTE:  We separated these three events as they do not need to be on the same day and it made for easier work load on us.
9 FEB 2019: Appointment at Little White House to discuss possibilities w/Director
10 FEB 2019:  Checked-out Sunset Lounge @ Sig for options
11 FEB 2019: Evaluated "Good-bye Coffee" under the Truman tent.  LOTS of food leftover to find a "home" for or throw away.
12 FEB 2019:  Appointment with event planners at "We've Got The Keys"
13 FEB 2019:  Departed Key West
All other planning was done by phone (Both while in Key West as well as before and after 2019 Come-Around) &/or electronic communications in hopes of avoiding more 2019 trips to Key West as other Firsties have for past Come-Arounds.
Our Firsties' GOALS:
*Provide more "free" time for Come-Around participants to see what is of interest to them in Key West (regulars seeing & doing what they like in Key West and new attendees/participants getting to know Key West areas of particular interest to them).
Encouraged reading of tour information obtained from Key West Chamber of Commerce for planning purposes in addition to multitude of electronic tour sites.
*Events/introductions to allow chapter members to get to know each other, especially members outside of their own USNA class or service community.
*Less food preparation requirements by CA attendees than past years, thus allowing "family cooks" to enjoy Come-Around & Key West vs having to cook dishes that serve 4 to 8 people using RV kitchen equipment.
*Implemented a new "Buddy System" to pair newbies to their classmates in the chapter & Key West with experienced chapter members, especially in light of at least a week of dry camping at NAS Truman.
*A change from recent years as Chapter participation has grown:  For all meals, everyone was instructed to provide their own plates, eating utensils, napkins, serving pieces and implements, drinking glasses and beverages to avoid the requirement that Firsties transport big bins of eating needs for all participants.  This returned to the Come Around to early-in-the-chapter mode of operations.
ALL PODS WERE UPDATED DAILY. Flexibility in the plans is needed for weather, fishing trips and stuff that just happens. Of great utility was a white board posted near the tent where the POD for the current and next day were kept current daily (Thanks, Hank!)
«
Letter from Chapter President Feb 2020 (20200217)
Upcoming Events
There are no upcoming events.