2020 Tampa Come Around (20201203)
Posted: 12/3/2020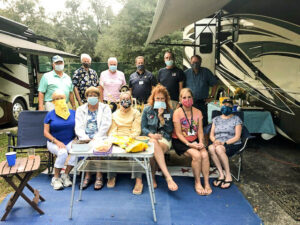 Tampa 2020 turned out to be a lot different than what was planned almost a year ago, but the fun and fellowship we had proved that you don't need a significant event, a lot of activities, or a huge group of people for a fun come-around (CA).
The CA was held November 19-23, 2020 at Lazy Days RV Resort and was hosted by Gary Polansky '69 and Val.
Attending were:
• Mike Bolier '67 and Kitty
• Jack Parry '67 and Nita
• Mike Tkach '68 and Vicki
• Randy Harris '73 and Laurie
• Nick Peterson '86 and Peggy
Everyone was from Florida except the Parrys, who made the long drive from Annapolis to be with us. We welcomed Nick and Peggy Peterson to their very first USNAAA RV Chapter Come Around. They were accompanied by their 112-pound German Shephard, Sasha, and Mr. Bones. Randy and Laurie Harris arrived in a brand-new coach out for its first trip.
The impetus for the CA when it was first planned back in The Normal Times, was to attend the Navy/USF football game. Then COVID struck. CAs were canceled. Game schedules were uncertain. If there was a game, would fans be able to attend? When a date for the Navy/USF game was announced and they started selling tickets to fans, the plan for the CA sprang back to life. Party on!
Surprisingly, everyone who registered for the CA opted to have a game-watch party at the RV park rather than going to the stadium. No problem. Then two weeks before the CA, the Navy team went into quarantine and postponed their game with Tulane. Then one week before the CA, their game with Memphis was postponed. Were they going to be able to play USF??? We didn't know. Then, lo and behold, the Navy team recovered in time! Game on! But wait, the day before the CA was to start, the USF team went into quarantine and the game was canceled! Was the CA canceled too? No way! Everyone had their RV reservations and Navy spirit, everyone was dying to be out of isolation, food and libations had already been purchased, there were other football games to watch on TV, so the CA went on as scheduled!
Some of the events originally planned were not available because of COVID and others were scrapped in favor of staying put at the RV park. We had free days which some people used to visit other people and places on their own, while the Petersons, the youngest members of the group, stayed in their coach weekdays to work remotely. One of the fun things to do was to tour the RVs that were for sale—new and used, lights and AC on, keys on the dash, and no salesmen around! Come 4 PM everyone gathered for Happy Hour and a shared meal. The first night we had Popeye's Chicken Sandwiches and lots of French fries, which were enjoyed by all. The second night, we sipped mojitos and feasted on a Cuban dinner complete with a 3-foot-long loaf of Cuban bread and individual flans from the oldest bakery in Ybor City. And although we didn't have a Navy game to watch on game day, we still had a pep rally complete with an Annapolis cheerleader named Jack, decorations, pom-poms, Navy songs, and a bountiful "tail-gate" that included Maryland-style crab cakes. We even cracked a few bottles of champagne to celebrate what would have been Navy's win, had they been able to play. The next morning, even though we were all still stuffed, we made room for a pot-luck brunch.
With the pandemic still in full swing, we were careful to follow CDC guidelines. All of our gatherings were outside and distanced, we had plenty of hand sanitizer and Clorox wipes, and everyone brought their place settings for meals. In the end, we were all glad that we own the perfect vehicles for pandemic travel and that, despite a canceled game, we carried on!
«
2021 Mt Dora Comearound (20201112)
Upcoming Events
There are no upcoming events.