2021 Mt Dora Comearound After Action Report (20210607)
Posted: 6/7/2021
Mt Dora "Come Around" After Action Report
May 31 – June 7, 2021
After several delays due to COVID-19, we were finally able to hold a Come Around in Mt. Dora, Florida just as restrictions are being eased.  It was certainly great to see our friends again.
We had ten RVs at the Southern Palms RV Resort in Eustis, FL.  This is a great location since they know how to handle events such as ours and we had a dedicated air-conditioned building for our use.  While the weather cooperated early in the week the temperatures, humidity and periodic rain increased later in the week, the building was a great gathering place.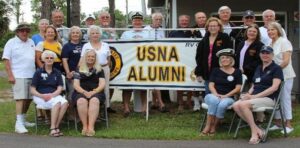 Seated (L to R) – Marie Roberts, Nita Parry, Patti Williams, Val Polansky.
Standing in front of banner (L to R) – Jim Roberts, Angela Brady, Susan Baldwin, JJ Tucker (Marc Farris '70), Su Gange, Rose Wolfe, MaryJane Metcalf
Standing behind banner (L to R) – Jacquie Welstead, Gregg Welstead, Don Baldwin, Marc Farris, Dan Brady, Jack Parry, Gary Polansky, Bob Metcalf, Dale Gange, Tom Wolfe, Jay Williams
Some event highlights were the Yalaha German bakery where we had even more delicious calories to stack upon our COVID calories.  Well, we all just need more walks and bike rides.  Our casual bike ride had four attendees who rode the 8.5 miles and then had conversation over coffee.  Our group dinner at "Olive Branch" Mediterranean – Italian Restaurant was a great success as we all liked the food and conversation.  I almost felt sorry for any diners nearby as the conversations did get more vocal as the evening progressed.  Evenings we played several games, including Pictionary (men against women) and multiple nights of Farkle.  For those uninformed, Farkle is a dice game where everyone gets into the process of helping others which results in plenty of humor to say the least.  Of course, the Happy Hours every night helped and there was lots of laughing.  Besides games we had a "Wear something you wore at good old USNA Contest".  The Winner in our almost totally arbitrary awards were Tom Wolfe ('70) for the uniform you were least likely to get into today, Bob Metcalf ('61} for the B-Robe with the most adornments, and Angela Brady ('83), who was a Crew Coxswain, and wore her old coxswain shirt and a Navy Crew sweater.  Since many members either graduated or got married in June, this gave us an opportunity one evening to celebrate our "Grad-Versary" with an appropriately decorated cake.
Farkle returned to become the highlight of the Come Around.  We had a tournament with almost everyone playing.  With Two tables of at least 8 to 10 people we had several winners.  Tom Wolfe ('70) was winner of one table and Marie Roberts (Jim '59) at another.  The low score award went to new player MaryJane Metcalf (Bob '61).  I would be remiss in not mentioning Jim Roberts ('59) for several things.  Not only did Jim put on his regular great breakfast and served as our ever-humorous White Elephant Sale auctioneer, but also got a special dice cup and "official" chapter badge, noting him as "Farkle Plebe".  Let's just say Jim had a great time playing Farkle.
It was great to finally have the RV Chapter group together in a hopefully waning COVID-19 world.
We look forward to meeting friend once again at the three Come Arounds scheduled for this fall.
«
Announcement – April Elections for Board Seats (20210401)
Upcoming Events
There are no upcoming events.