2021 Americus Comearound AAR (20131223)
Posted: 12/23/2021
2021 Americus ComeAround After Action Report
After having to be postponed from 2020 due to Covid-19, the 2021 Americus ComeAround was held with a smaller but equally enthusiastic group. We all were able to experience the rich culture and friendliness of rural South Georgia.
The CA was held from 25-30 October 2021 at the Americus KOA at Brickyard Plantation and was hosted by Don '74 and Susan Baldwin.
Attending were:
Bob '61 and Mary Jane Metcalf
Merrick '65 and Kathy Bayer
Jay '67 and Patti Williams
Dale '70 and Sue Gange
Tom '70 and Rose Wolfe
Tom '70 and Ellen Shields
Don '74 and Susan Baldwin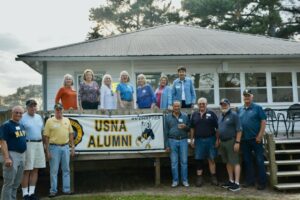 The ComeAround began with a Happy Hour that included boiled peanuts that had just been picked from the fields of Plains, Ga. Most everyone tried some and a few new boiled peanut enthusiasts were identified.
On Day 1 the Group visited the Jimmy Carter Boyhood Home in Archery and the Jimmy Carter Historic Site in Plains. We got an excellent tour of both sites by National Park Service Ranger Kevin Alexander who was dressed as a farmer from the late 30s when President Carter was a boy. The day ended with a presentation and Q&A with Charles Barr, a National Park Service Ranger from Andersonville National Historic Site about the prison camp, POW museum and the National Cemetery located at Andersonville.
On Day 2, we visited Andersonville where we got a guided tour of the Prison Camp from National Park Service Ranger Teri Surber. The tour included a surprise presentation from a member of a local high school ROTC group that was studying the Camp as part of a project. His presentation included some "fun facts" about Andersonville. Ranger Surber said she had never heard anyone reference "fun facts" about the Prison Camp before. The story of Andersonville is a somber one about a 14-month period at the end of the Civil War during which 13,900 men died out of a total of 53,000 that were interned there. The maximum interned at one time was 33,000 in a camp designed to hold 14,000. After the tour, many visited the POW Museum and the National Cemetery. In the evening, we had a Happy Hour which included Tom Wolfe's famous margaritas.
On Day 3, after getting an inch of rain overnight, we were treated to a pancake breakfast by the campground staff who braved the rain to prepare a wonderful spread of pancakes, sausage, and coffee. In the evening we were hosted at the home of Herschel '74 and Pam Smith. Herschel is a native of Americus who returned after a 20-year Navy career and another 25 years as a Southwest Airline pilot. We had good southern barbecue accompanied by sweet potato crunch, a southern delicacy. Also at the dinner were John '62 and Alice Argo.
On Day 4, we said goodbye to Bob '61 and Mary Jane Metcalf as this was their last ComeAround. Bob and Mary Jane have been with the USNA RV Chapter since the beginning and have attended more than 60 CAs, hosting many including 7 Key West CAs. They were regaled with a hearty rendition of Navy Blue and Gold as they cast off for the last time. In addition, Don Baldwin had to leave to attend the funeral of a classmate who passed away in Memphis, TN but in the finest tradition, the CA continued, led by Susan Baldwin and the other ladies in attendance.
«
2021 Watts Bar Comearound AAR (20211223)
Upcoming Events
There are no upcoming events.