2022 Key West After Action Report (20220222)
Posted: 2/22/2022
After a year gap because of COVID the USNA AA RV Chapter returned to Key West for a wonderful 9-day event from Sunday Feb 6 to Monday Feb 14, 2022 dry camping at the Truman Annex to Naval Air Station Key West.  The come around was scheduled with the Commanding Officer of NAS Key West by RV Chapter President, Jack Parry ('67) who also coordinated the campground reservations with the NAS Key West MWR organization.  These arrangements allowed early arrivals on Saturday Feb 5, 2022 to help set up the campsite and a few people to linger after the come around until Wednesday Feb 16, 2022 to shut down the campsite.  Tom Wolfe ('70) arranged for base access for all those participating that did not have DoD issued ID cards.  Tom ('70) and Ellen Shields were the firsties who coordinated the events for the plan of the week.
The come around had 42 members and 4 guests attending with 18 RVs.  Those RV Chapter members enjoying the Key West sun and fun were Nita and Jack ('67) Parry, Patti and Jay ('67) Williams, Stevie and Hank ('67) Giffin, Elizabeth and Mike ('67) Currie (without RV), Vicki and Mike ('68) Tkach, Val and Gary ('69) Polansky, Ellen and Tom ('70) Shields, Rose and Tom ('70) Wolfe, Su and Dale ('70) Gange, "JJ" Tucker and Marc ('70) Farris, Melinda and Royal ('70) Connell, Eva and Andy ('72) Wehrle, Allison and Marty ('72) McGee (without RV), Pamela and Lee ('73) Van Oss, Wendy and Kirk ('75) Daniels, Gail and Dave ('75) Penman, Eileen and John ('77) Madaio, Jerry and Kathy ('80) Shanebrook, Daniel ('82) and Angela ('83) Brady (without RV), Jen and Mike ('87) Weiner, Tom ('87) Keane, and Karen ('01) Drake with her fiancé Pete Silaghi (without RV).  Guests included Jim ('72) Salamon, and Barbara and Bill ('67) McCracken.
Sunday 6 Feb
Due to high winds on the preceding Friday our tent was not able to be raised for the opening of the come around, but we obtained permission to use the pavilion nearby to conduct our opening Happy Hour and Welcome Dinner to officially start the come around.
Monday 7 Feb
After a morning of housekeeping tasks such as obtaining the formal passes for those without DoD ID cards and filling out camping paperwork, we gathered at Chico's Cantina for lunch and comradery.  At the afternoon Happy Hour we were regaled by Bob Wolz, Executive Director Emeritus at Harry S. Truman Little White House about the Navy's influence on the Little White House and many anecdotes about Harry Truman and the Truman presidency.
Tuesday 8 Feb
We started the day with a group tour of the Army Special Forces Underwater Warfare Operations School on nearby Fleming Key.  We knew we were with elite folks when the Sargent Major jogged down the road to unlock the gate to let one of us into the compound then jogged back ahead of the car.  It turned out that our briefer was a Woopoo from USMA '09 so he got a rousing "Beat Army" salute but in all seriousness it was informative to see what they do and sobering to walk down their corridor of honor.  We celebrated a good day with a Margarita Happy Hour with Tom Wolfe ('70) doing the mixing with willing helpers.  So when it came time for the group photo we were properly loosened up for still pictures.  A grill pot luck followed with conversation carrying on late into the night.

Following the evening a BOLO was issued by Jay Williams with comments that followed:
Jay:
Ahoy Campers!
Did anyone find a silver serving spoon last evening after the grill night?
It was mistakenly left behind by the Curries.
Please let me know and I'll come retrieve it!
Update from Jay:
Spoon was captured late last night and is now in custody.
An accomplice, mini tongs with blue silicone ends remains at large. Reported to be armed and dangerous.
Huge law enforcement presence in the area.
From Sheriff Shanebrook
Jay,  Mini tongs are in custody. After unruly behavior overnight, he is now cuffed and restrained to a large grey plastic salad bowl. Bail has increased dramatically due to Tong's perceived danger to the Conch Republic.
From Kirk & Wendy Daniels:
The grey salad bowl most likely is missing from our nest of bowls.  We will claim it again since it was orphaned last night!
From Tom Wolfe
Good to hear these vagrants have been captured and owners identified. Vagrancy and delinquency are not tolerated within the Chapter. We simply place offenders who taken into custody but remain unclaimed on the auction block at a subsequent white elephant sale!
Wednesday 9 Feb
Although we had planned a recreational bike ride in the morning, the weather did not cooperate between rain and high winds.  However, it cleared up in the nick of time for a wonderful sunset sail with Sebago Watersports.  The captain (who was a nifty boat handler) with a few words from Jay Williams ('67) took us just offshore from our campsites before jibing to position the boat to watch the setting sun.  Between the carried aboard snacks, the free flowing wine, beer or champaign, and crew members taking our pictures, we had a great time.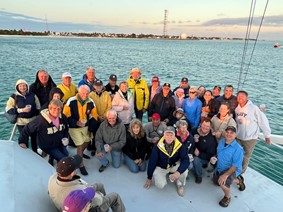 Thursday 10 Feb
At our Chapter General Meeting, Dr. Sofi Loomis ('99) joined us to present the USNA Alumni Association and Foundation Update.  Sofi is our chapter's contact within the Alumni Association and she demonstrated her commitment by becoming a member of the RV Chapter and actively participated in our White Elephant fundraising auction led by auctioneer Jack Parry ('67).  In the afternoon we had a fun game day with a four-event field activity (frisbee toss, golf pitch, football toss, and corn hole toss) while others did a fun Farkle game under the tent.  The day was concluded with an outing to the Better Than Sex Dessert Restaurant for some delightful and intriguing desserts and drinks.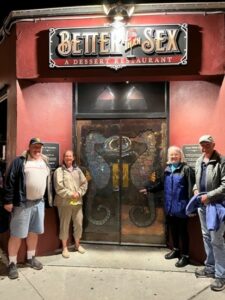 Friday 11 Feb
This was a planned no formal chapter activity day to allow participants a free day to choose to do whatever they wanted.  John Madaio  set up an impromptu tour of the USS Savannah LCS 28 which had just arrived inport Key West a few days before.  The USS Savannah is the newest commissioned ship in the fleet and the tour was wonderful.
Saturday 12 Feb
We started this day with a Spouse Meeting since much of the come arounds involves spouses who take on a large load of work either as firsties or helping with various activities.  Marty McGee, a local Key West resident and member of the RV Chapter, led a three hour fun bike ride through old town Key West that started and finished at the come around tent and included a refreshment drink stop at the Casa Marina Key West Resort.  In the evening we had a fine dinner at a long table at the Stock Island El Siboney Restaurant serving Cuban cuisine.  We sat at a long table and were a boisterous crowd.
Sunday 13 Feb
We had intended to have a breakfast bash but wind and rain made it impossible unfortunately, but the rain did subside later in the day to allow us some fine, if not slightly windy, weather for a grill pot luck dinner.  We saved appetizers for the Super Bowl game and thanks to Mike Tkach's outdoor 50" TV we gathered at the tent to watch the Super Bowl LVI.  The commercials were good, the half time show full of stars and the game was good, certainly for Ram fans.
Monday 14 Feb
Valentines Day was celebrated with some candy kisses and danishes as people gathered before departing the come around.  These are always somewhat sad departures after a fun and socially active week but all part of the RV character – until we meet again…
«
California Comearound (20220106)
Upcoming Events
There are no upcoming events.