2022 Fredericksburg Texas After Action Report (20220514)
Posted: 5/14/2022
Fredericksburg Texas After Action Report
April 25th through April 30th 2022
Fredericksburg Texas proved to be a great place for a Comearound.   We had eight RV's with several attendee who had never been to an RV chapter event before.  Attending were Tom '70 and Rose Wolfe, Michael'87  and Jennifer Weiner, Bob '70  and Libby Perch, Drew'85 and Talisa Jones, , Jim Swoope'70, Bill Moore '72 and  as Firsties, Dale'70  and Su Gange.  We also had several local guests stop by during the week, Bill'63  and Dee Bradford, Pete'70 and Sue Pattrick, Kenneth Wallace '78, and Marc Ferris "70 and JJ Tucker.
When we arrived we found we would have a large exclusive meeting room with plenty of amenities.  We used it for all happy hours, meetings, and several game nights.
Our first event was a Tour of the LBJ Ranch and the outside of the LBJ house (the interior was under repair) The house, while not extremely imposing, was still impressive and worth the visit as was the rest of the ranch.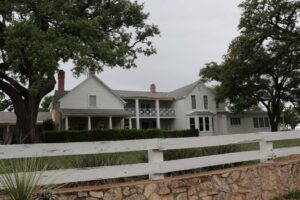 One item of interest was the process that LBJ had of having significant visitors sign concrete stones in the back yard.  Pictured is the one signed by Alan Shepard of Freedom 7.  Around this were many Apollo.
Dinner that night was German food at a noted local restaurant. This was organized, as was the LBJ tour by Firstie Helper Bob Perch.  The picture was taken by one of our several photographers, Michael Weiner.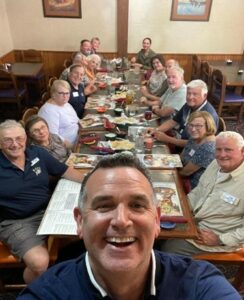 The next morning we had six people for t he bike ride along the Guadalupe River in Kerrville TX.  At the turnaround point to return, we all were bemoaning that the path wasn't longer than the slightly more than eoght miles total.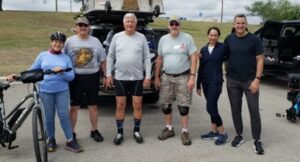 After the Bike ride we toured the "Museum of the Pacific War" which was organized by Michael Weiner.  We had a retired Navy Captain for our docent escorted tour, who provided great information.   There were many displays of interest including a B-25 like Gen Jimmy Doolittle flew to Japan.   A captured Japanese Minisub also gathered a lot of interest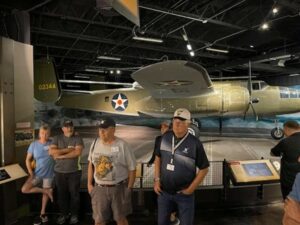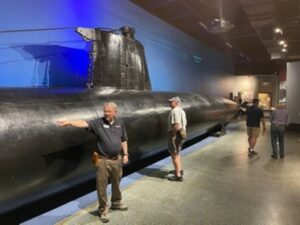 Dinner that night was at a Mexican Food restaurant also organized by Firstie Helper Michael Weiner.  We all decided it was a great choice.
One thing we did that was unique was to hold a separate training session on "How to hold a Comearound'.  I am pleased to say three or four attendees were highly interested and in forthcoming years I believe several will be both attending more Comearounds and planning their own.  We look forward to their growth and enthusiasm within the Chapter
The last day was a day on our own visiting other local area attractions.
Here is our photo will all who attended and a few guests.

The Come around concluded the next morning with a rousing rendition (OK, Maybe that is a bit overstated) of Navy Blue and Gold.     Everyone agreed that Fredricksburg was a great Comearound location and one that we should visit again.
I do not want to conclude without acknowledging the "Firstie assistants" who made it possible to have a well organized event without Su and I ever having visited either the area or the RV park.  Both Bob and Libby Perch and Michael and Jennifer Weiner were of great assistance.  Their support is highly appreciated.
Dale and Su Gange '70, Fredericksburg TX Firstie.
«
2022 Watts Bar Update (20220315)
Upcoming Events
There are no upcoming events.