2022 Tucson Arizona After Action Report (20220414)
Posted: 5/14/2022
Tucson Arizona After Action Report
May 3rd through May 7th 2022
We all arrived at the Cactus Country RV Resort primed for a smaller, more casual, but still "RV Chapter" feeling Comearound. Cactus Country was recommended by Norman Mims who has been there many times. Local knowledge is great.
Attending were Tom '70 and Rose Wolfe, Norman '60 and Liz Mims., Bill Moore '72, and as Firsties Dale '70 and Su Gange.. Wolfe, Moore, and Gange had just attended Fredricksburg TX and traveled several days to Arizona. Both Moore and Mims are from the local Arizona area. Their support was appreciated.
With a smaller group the event was a little less structured, which ended up still working well. We used the RV Resort picnic table between the sites as our primary meeting place supplemented by a few chairs. The Chapter banner and our red/white/blue table clothes helped make the area feel like a Comearound event area.
We had an opening Happy Hour, and Firstie dinner, going over each day's POD. The POD, however, was a little less structured than that of a larger event. With only seven people there was no real need for dinner reservations, and it was not a large enough group to organize any real "escorted" tours. I can tell you none of that affected the event. If anything the smaller size of the group made it more flexible and intimate.
The first day the men all visited the PIMA Air Museum. The women decided to stay at the park and have some quiet time. The Air Museum proved to be more interesting than anticipated and we had a very casual tour and walk inside and outside among the many aircraft. It proved more personal for Bill Moore as they had the F4 Phantom which he had flown. He explained a few specific details of the aircraft to us based upon his experience. Hearing his description of a dive at over 1000 MPH was unique.
There was also a DASH drone there that I was qualified on when I first graduated from the Academy at Little Creek VA. They removed them from service just after I arrived at my first ship.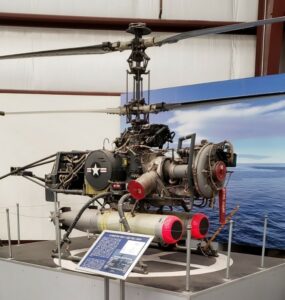 After the Air Museum Norman Mims was able to get us onto Davis Monthan – Tucson Air Force base for a close drive by of the airplane boneyard. Lots of planes to see. Each day at the RV Resort we saw A-10 Thunderbolt's from Davis Monthan flying overhead.
That night we had a steak dinner at a restaurant picked out by Bill Moore. Great Southwest style steaks at Silver Saddle Steakhouse. While the dinner was nice it was even better to feel the enthusiasm generated by Bill Moore, who I am sure we will see more of at other Chapter events.
The following day was an open morning. Su and I visited Seguaro National Park and took the loop drive. We highly recommend it.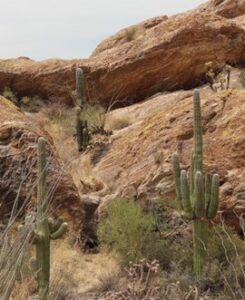 Our final day we went to the Amerind Museum. A museum dedicated to the research on the Indian culture of the Southwest by a family who settled into the area in the 1930's They had artwork from local native craftsman there also.
Interspersed in our activities and dinners were a "Margarita Night" by Tom Wolfe, a Potluck Dinner, and a fine local Mexican dinner. We had several nights of "Farkle" under the stars lit by the outside lights of the RV's
Our closing Picture shows our group, along with Bart '54 and Jann DallaMura, who no longer RV, but drove over to visit us for a Happy Hour.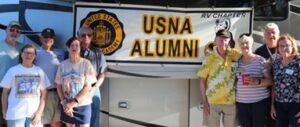 We concluded the Comearound with a traditional singing of "Blue and Gold", at the conclusion of which I am sure our merry band roused a few neighbors with an enthusiastic "Beat Army". While it was different with everything outdoors and without a tent (we had a large canopy but it was far too windy to use) I was glad that the event had the feel of a larger more normal Comearound. I truly appreciate everyone who supported the event
Dale and Su Gange – Firsties
«
2022 Fredericksburg Texas After Action Report (20220514)
Upcoming Events
There are no upcoming events.