Events, News & More
Announcement – April Elections for Board Seats (20210401)
Posted: 4/1/2021
Jack Parry '67, Chapter President, sends:

RV Chapter Members:

Welcome to April and hopefully Spring 2021 in full bloom and COVID-19 vaccinations in our arms.

Again, in accordance with the chapter by laws, Jim Connors was appointed and has led the nominating committee to formulate this year's board of directors slate for election during the month of April and for installation at the annual meeting in Mt Dora, May 31-June 7. Thank you once again Jim for your support of the chapter.

This year we were asking members to fill the vacant new position of Vice President and for the position of Secretary and the four director seats up for election (or re-election). There was also a vacancy of an unexpired director seat term of one year.

The slate presented by the Nominating Committee is as follows:

For two year terms:

Vice President – Tom Wolfe '70

Secretary – Scott Rodgers '78, incumbent for his 2nd term

Director – John Madaio '77, incumbent for his 2nd term

Director – Don Baldwin '74, incumbent for his 2nd term

Director – Kathy Shanebrook '80, for her 1st term

To fill the new 'even year' position:

Director – Pete Miller '76, for one year term

Special appointment under the revised by laws:

Su Gange – for two year term as Spouse Representative to the board.

A special thanks to the above members for volunteering to support the board and chapter as we move forward.

Your individual responses of support or comment should be directed to Jim Connors at 

jimcbrd@aol.com

. The period for comment is the month of April.

A very special thanks to Jim Connors for his efforts to put together this year's slate.
2021 Smokey Mountains Come Around Update (20210301)
Posted: 3/1/2021
Just returned from the RV Park after several reports of no vacancy.
In fact there are still sites available.  There are two factors in play.
The website needs repair. If you put in your rig size it returns no vacancy when in fact there are sites available.  If you use the website don't put in your rig size.  Also, helpful hint – if your rig is over 35 foot you don't want sites 1-5.  Too steep,
The host who answers the phone at the campsite phone number is a nice lady – but one brick shy a load.  Recommend you use the park ranger office number and speak to a ranger.
There is a 25% discount for military or senior citizen.  If you want the military discount you either tell them you're a TN vet or call the ranger and he takes your word for it.  Go figure.
2021 Smokey Mountains ComeAround (20210224)
Posted: 2/24/2021
Where: Davey Crocket Birthplace State Park, 1245 David Crockett Park Rd, Limestone, TN 37681
When: Oct 11 – 16 – immediately before Watts Bar – (abt a 2.5 – 3hr drive W. to Watts Bar.)
Call or make your reservations online – now! There are only 16 sites available that week. There are military or senior citizen discounts. Have to call to get the military discount – or tell them you're a TN vet. I know I know…
Call (Busy park, small staff. If one doesn't answer call the other. Persistence is the name of the game.)
Park Office: 423-257-2167
Camp Ground: 423-257-4500
Website:
https://tnstateparks.com/parks/david-crockett-birthplace
There is a ton of stuff to do in this area. Hike, bike, museums, fossil digs, breweries, distilleries, International Story telling Center, golf, Bristol Speedway, plus you are in the heart of bluegrass country and Eva and I are trying to put together a jam for one night's happy hour.
Y'All come!
2021 Americus GA ComeAround Update (20210224)
Oct 25 at 4 PM EDT – Oct 30 at 11 AM EDT
Price: Free · Duration: 4 days
Susan and Don Baldwin '74 will be hosting a ComeAround in October 2021 near Americus, Ga. We will be at the Americus KOA at Brickyard Plantation. If we get 10 RVs, the nightly rate is $33.
To accommodate those coming from the Watts Bar ComeAround, we will begin the ComeAround on Monday Oct 25 and end on Friday, Oct 29.
There are many attractions in the area including the Andersonville National Historic Site, Jimmy Carter National Historic Site, Habitat for Humanity Global Village among others. There will be opportunity for Disc Golf if desired and I will be boiling peanuts, South Georgia Style.
If we have enough participation, the Campground owners will be putting on a pancake supper for us.
Susan and I look forward to seeing you in our part of the country.
We will be following the Georgia and local Covid-19 guidelines in force at the time of the event.
Go Navy!
2021 and Key West Come Arounds (20210223)
Posted: 2/23/2021
The Chapter Board met today and established the following notional planning dates for 2021 and Key West ComeArounds:
Oct 11-16 Smokey Mountain Come Around (Andy Wehrle '72)
Oct 17-23 Watts Bar (Jim Conners '74)
Oct 25-29 Americus GA (Don Baldwin '74)
Feb 6-14 2022 Key West (???)
WATTS BAR 2021 RESERVATIONS (20210222)
Posted: 2/22/2021
Good news. We have around 20 rigs signed up already for Watts Bar 2021. Per comms with Kim at Hornsby Hollow campground, y'all can make reservations now. You'll have to pay for the first night with a credit card to hold your spot, but I advise paying for the rest of the stay with check or cash after you arrive for the $2/night discount. BTW, if you have signed up for Watts Bar on Facebook, please email me. I don't do Facebook and so I probably have not added your names to the list. Thanks
I do not have a POD yet because many of the activities we are planning are not yet open because of Covid. But the actual come around will likely start on October 18 with departure on 10/24. The night of 10/23 will likely be a firstie dinner and fireworks grand finale. But most folks will probably arrive on 10/17 and take advantage of the 7 nights for the price of 6. We will have a flag retirement ceremony so bring your old flags. We'll also have an auction so start digging out your treasures and oddities for this always fun activity. We'll have campfires and s'mores most nights and dancing with a DJ under the pavilion on one night. And I'm hoping to set up another trip to the Cumberland Playhouse Theater and to a local factory.
More later but you're invited to make reservations with Kim as soon as you feel ready to lock in your dates. Her phone number is (423) 334-1709 or (865) 924-4204.
Jim Connors
2021 Watts Bar Come Around Update (20210211)
Posted: 2/11/2021
Jim Connors '74 sends:  I am sending this to those folks who have shown an interest in Watts Bar TN Come-arounds in the past to let you know that things have changed recently with Hornsby Hollow campground. This is where we have been holding this CA for the last 5+ years. I'll provide more intel as soon as I can, but I want to provide this as a heads up.
One of the silver linings from Covid is that more people have discovered the camping/RVing lifestyle. We even saw people in many of the dispersed camping sites we stayed at last summer on our trip out west. Sadly, that has come home to roost even here in East TN. Hornsby Hollow has gotten so crowded that Kim told me they are now having a firm create a reservation system for their use. As a result, it will be necessary for each of you to contact their office to reserve your spot, and also to pay for one night up front on a credit card. At the same time, they have elected to raise their nightly rates to $45 credit card or $43 cash. And instead of 7 nights for the price of 5, now it's 7 for 6. So a week paid in cash will now be $258, vs $270 credit. While I can keep the firstie fee down to a low level, I can not keep the camping fees from rising.
We're still looking at the week starting Oct 17 with the actual come around starting probably on either the 17th or 18th. But I wanted to provide this heads up. I am disappointed with the loss of the informal registration process we've enjoyed, and with the large price increase, but it seems to be the way many of the locations are moving that provide any services. Please let me know if you are still interested in attending although you don't need to do anything in the way of reservations just yet. Kim is holding 15 spots for us in the area we normally camp at. And let me know if you require 50 amps. Remember, it will be cooler and you won't need AC, so if you can run your RV on 30 amps that would help us keep closer together.
2021 Mt Dora Come around Update
Posted: 12/25/2020
Update January 16:
Hello and welcome to all planning to attend the Mt Dora comearound. We are starting early planning for Mt Dora, and it is time to post a sign-up sheet to get things going.
As stated here before, the new dates are May 31st (arrival day) to June 7th (departure day) We can handle people only attending for a shorter time with advance notice. The location is the Southern Palms RV Resort in Eustis FL about 10 minutes from Mt Dora. FL.
Mt Dora is a quaint small town on a lake about 45 minutes north of Orlando FL. We will be doing things like going to a German Bakery, touring a local Museum, having a dinner in town, our own potluck dinner, a "white elephant" auction, evening "Happy Hours", a couple of bike rides, and more. We will have bikes rides for cruisers as well as road bike riders. Mt Dora has a large bike festival each year and is known for some great roads to ride. Bring your bikes.
We will be in the Pines Section of Southern Palms which is reserved for "rallies", as they call events there. Arrival is Monday with the opening event being a "Firstie" provided Dinner / Happy Hour / Welcome / and Meet and Greet at 1600. You should plan to arrive in the afternoon if possible. A detailed POD will be published to participants as we get closer.
The phone number for Southern Palms is 352-357-8882. Michelle typically handles events like ours, but others there may take reservations. We have special rates. Some sites are 50 amp and some 30 amp, a few are pull throughs but most are back-in. We will be using all types. I believe all sites at our event will be priced the same.
It is too early to know what Covid restrictions may be in place in Florida at the time, but we are putting together contingencies for various situations. IF POSSIBLE PLEASE GET THE COVID VACCINE.
We have been in Mt Dora, staying at Southern Palms, while doing some early planning a month or so ago, and I see no reason we will not have a great event. Groups are having "rallies" there now.
Sign up on Facebook, and notify me of your planned attendance at dandsgange@comcast.net.
Site reservations are made individually by contacting Southern Palms. Thanks Dale and Su Gange.
2020 Tampa Come Around (20201203)
Posted: 12/3/2020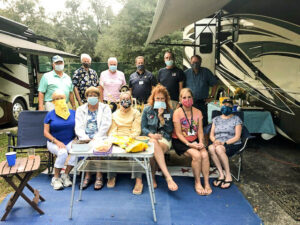 Tampa 2020 turned out to be a lot different than what was planned almost a year ago, but the fun and fellowship we had proved that you don't need a significant event, a lot of activities, or a huge group of people for a fun come-around (CA).
The CA was held November 19-23, 2020 at Lazy Days RV Resort and was hosted by Gary Polansky '69 and Val.
Attending were:
• Mike Bolier '67 and Kitty
• Jack Parry '67 and Nita
• Mike Tkach '68 and Vicki
• Randy Harris '73 and Laurie
• Nick Peterson '86 and Peggy
Everyone was from Florida except the Parrys, who made the long drive from Annapolis to be with us. We welcomed Nick and Peggy Peterson to their very first USNAAA RV Chapter Come Around. They were accompanied by their 112-pound German Shephard, Sasha, and Mr. Bones. Randy and Laurie Harris arrived in a brand-new coach out for its first trip.
The impetus for the CA when it was first planned back in The Normal Times, was to attend the Navy/USF football game. Then COVID struck. CAs were canceled. Game schedules were uncertain. If there was a game, would fans be able to attend? When a date for the Navy/USF game was announced and they started selling tickets to fans, the plan for the CA sprang back to life. Party on!
Surprisingly, everyone who registered for the CA opted to have a game-watch party at the RV park rather than going to the stadium. No problem. Then two weeks before the CA, the Navy team went into quarantine and postponed their game with Tulane. Then one week before the CA, their game with Memphis was postponed. Were they going to be able to play USF??? We didn't know. Then, lo and behold, the Navy team recovered in time! Game on! But wait, the day before the CA was to start, the USF team went into quarantine and the game was canceled! Was the CA canceled too? No way! Everyone had their RV reservations and Navy spirit, everyone was dying to be out of isolation, food and libations had already been purchased, there were other football games to watch on TV, so the CA went on as scheduled!
Some of the events originally planned were not available because of COVID and others were scrapped in favor of staying put at the RV park. We had free days which some people used to visit other people and places on their own, while the Petersons, the youngest members of the group, stayed in their coach weekdays to work remotely. One of the fun things to do was to tour the RVs that were for sale—new and used, lights and AC on, keys on the dash, and no salesmen around! Come 4 PM everyone gathered for Happy Hour and a shared meal. The first night we had Popeye's Chicken Sandwiches and lots of French fries, which were enjoyed by all. The second night, we sipped mojitos and feasted on a Cuban dinner complete with a 3-foot-long loaf of Cuban bread and individual flans from the oldest bakery in Ybor City. And although we didn't have a Navy game to watch on game day, we still had a pep rally complete with an Annapolis cheerleader named Jack, decorations, pom-poms, Navy songs, and a bountiful "tail-gate" that included Maryland-style crab cakes. We even cracked a few bottles of champagne to celebrate what would have been Navy's win, had they been able to play. The next morning, even though we were all still stuffed, we made room for a pot-luck brunch.
With the pandemic still in full swing, we were careful to follow CDC guidelines. All of our gatherings were outside and distanced, we had plenty of hand sanitizer and Clorox wipes, and everyone brought their place settings for meals. In the end, we were all glad that we own the perfect vehicles for pandemic travel and that, despite a canceled game, we carried on!
2021 Mt Dora Comearound (20201112)
Posted: 11/12/2020
Tentative Dates;
Start — Monday April 26th — Happy Hour at 1600
End — Monday May 3rd — depart after breakfast
This is for your 2021 calendar advance planning only.
Details will be announced about January with a formal signup.
Please do not contact the campground or make reservations before more detailed announcements.
We look forward to a great event, just as we had two years ago in the lovely Mt Dora area.
Thanks — Dale and Su Gange.