Events, News & More
Watts Bar Update 2 (20220730)
Posted: 7/30/2022
Hello Watts Bar Campers! We are working hard to get things lined up for the September CA and have a few things that require early attention to ensure all goes smoothly during our week at Hornsby Hollow. Thanks to all who have signed up to attend and made their reservations.
As in the past, we plan to attend a matinee performance at the Cumberland County Playhouse in Crossville, TN on Thursday, 9/22/22. For those new to the CA, the Cumberland County Playhouse is the only major non-profit professional performing arts resource in rural TN, and one of the 10 largest professional theaters in rural America. We will be seeing the "Buddy Holly Story" which is likely to include some early Rock and Roll tunes many of us will recognize. To reserve a block of seats at a group rate, we need to get a firm head count and pre-pay.
Prior to the above, we plan to take advantage of the all-you-can-eat buffet style lunch at Homestead Harvest in the Cumberland Mountain State Park. This allows a varied menu to satisfy individual dietary needs or preferences and also is quick and easy to fit within our time constraints. (If it's not broken, don't fix it.) We will pay for this fixed price buffet with one check to minimize individual transactions and time in lines. (Tips for servers will still be up to individuals.)
To facilitate pre-payment, we would like to collect $45.00 per attendee for the two events above. Please respond to the below address with the number of attendees and a check for the appropriate amount. (Please make checks payable to Tim Hallihan)
Tim and Vanessa Hallihan
3202 Lowe's Landing
Louisville, TN 37777
Please note this dollar amount is in addition to the CA fee we will collect at the beginning of the CA to cover the cost of other activities ($20-$30).
We are looking forward to seeing you all in September and are learning there are more than a few moving parts to the Watts Bar/Hornsby Hollow venue. Jim and Lynne have been very helpful and even loaned us their Size 16 EEE Converse Allstars. It is very helpful to have coaches that have travelled this path.
BEAT ARMY,
Tim and Vanessa
Open Letter from Retiring President (20220609)
Posted: 6/9/2022
"As I step down as the chapter president on June 1, a thank you is heartfully extended to all who have supported me and the USNA RV Chapter during my tenure.
To the three former chapter presidents, Jim Roberts '59, Bill Bradshaw '63 and Jay Williams '67, thank you for being available each and every time I needed guidance and retrospection. You were invaluable to me and the chapter.
To the chapter members who stepped forward to serve on the board, thank you for your support and work on behalf of the chapter. Together we accomplished a great deal in evolving the leadership of the chapter; the 50%+ growth of the chapter, and the continued involvement in the chapter's engagement during the pandemic. We grew larger and stronger because of your combined commitment.
Thank you to the members who continued to be active and who volunteered to lead our Come Arounds; who volunteered to work during our gatherings; who attended our Come Arounds. This is how and why we continue to thrive as a chapter.
To the spouses of our members, my thanks, joining with the thanks from all the members, as we say – you are the real backbone and workers in making the chapter the wonderful experience that it has been for 20+ years. The board recognized your importance by modifying the CHAPTER BY-LAWS to include a seat at the table to represent all our spouses. Without your work, our motto would not be 'we don't just do lunch'.
To our associate members, thank you for pitching in to enhance chapter gatherings. You are a welcome addition and a wonderful partner in helping us to excel.
I would be remiss if I did not recognize 'Nita Parry who not only supported my leadership but volunteered in 2014 to be the chapter Shipmate correspondent for the past 8 years. Much of the chapter growth certainly points to the presence which she maintained by providing Shipmate magazine with columns in every issue and the featured profile articles.
Now, before I cast off into the haze of being a past-president, a hearty welcome to our new members who joined in early 2022. Jim Salamon '72; Sandra & Darren Anderson '83 of Baltimore, MD; Lee Ann & Bill Kostrub '86 of Murphreesboro, TN; John & Sofi Loomis '99 of Annapolis, MD. Welcome to y'all.
To all who read this column, we depend on volunteers, not just to be board members, but to raise their hands to create Come-Around events and provide active assistance in planning and implementation of Come-Arounds. We don't just do lunch! Come, join our happy band and be active."
Jack Parry '67
Chapter President, 2018-2022
2022 Tucson Arizona After Action Report (20220414)
Posted: 5/14/2022
Tucson Arizona After Action Report
May 3rd through May 7th 2022
We all arrived at the Cactus Country RV Resort primed for a smaller, more casual, but still "RV Chapter" feeling Comearound. Cactus Country was recommended by Norman Mims who has been there many times. Local knowledge is great.
Attending were Tom '70 and Rose Wolfe, Norman '60 and Liz Mims., Bill Moore '72, and as Firsties Dale '70 and Su Gange.. Wolfe, Moore, and Gange had just attended Fredricksburg TX and traveled several days to Arizona. Both Moore and Mims are from the local Arizona area. Their support was appreciated.
With a smaller group the event was a little less structured, which ended up still working well. We used the RV Resort picnic table between the sites as our primary meeting place supplemented by a few chairs. The Chapter banner and our red/white/blue table clothes helped make the area feel like a Comearound event area.
We had an opening Happy Hour, and Firstie dinner, going over each day's POD. The POD, however, was a little less structured than that of a larger event. With only seven people there was no real need for dinner reservations, and it was not a large enough group to organize any real "escorted" tours. I can tell you none of that affected the event. If anything the smaller size of the group made it more flexible and intimate.
The first day the men all visited the PIMA Air Museum. The women decided to stay at the park and have some quiet time. The Air Museum proved to be more interesting than anticipated and we had a very casual tour and walk inside and outside among the many aircraft. It proved more personal for Bill Moore as they had the F4 Phantom which he had flown. He explained a few specific details of the aircraft to us based upon his experience. Hearing his description of a dive at over 1000 MPH was unique.
There was also a DASH drone there that I was qualified on when I first graduated from the Academy at Little Creek VA. They removed them from service just after I arrived at my first ship.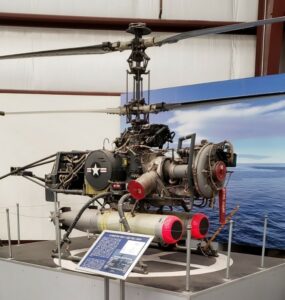 After the Air Museum Norman Mims was able to get us onto Davis Monthan – Tucson Air Force base for a close drive by of the airplane boneyard. Lots of planes to see. Each day at the RV Resort we saw A-10 Thunderbolt's from Davis Monthan flying overhead.
That night we had a steak dinner at a restaurant picked out by Bill Moore. Great Southwest style steaks at Silver Saddle Steakhouse. While the dinner was nice it was even better to feel the enthusiasm generated by Bill Moore, who I am sure we will see more of at other Chapter events.
The following day was an open morning. Su and I visited Seguaro National Park and took the loop drive. We highly recommend it.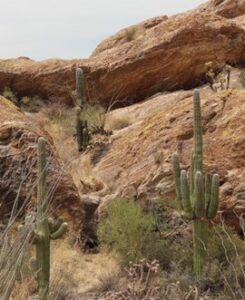 Our final day we went to the Amerind Museum. A museum dedicated to the research on the Indian culture of the Southwest by a family who settled into the area in the 1930's They had artwork from local native craftsman there also.
Interspersed in our activities and dinners were a "Margarita Night" by Tom Wolfe, a Potluck Dinner, and a fine local Mexican dinner. We had several nights of "Farkle" under the stars lit by the outside lights of the RV's
Our closing Picture shows our group, along with Bart '54 and Jann DallaMura, who no longer RV, but drove over to visit us for a Happy Hour.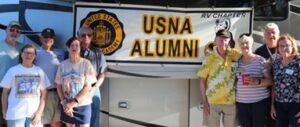 We concluded the Comearound with a traditional singing of "Blue and Gold", at the conclusion of which I am sure our merry band roused a few neighbors with an enthusiastic "Beat Army". While it was different with everything outdoors and without a tent (we had a large canopy but it was far too windy to use) I was glad that the event had the feel of a larger more normal Comearound. I truly appreciate everyone who supported the event
Dale and Su Gange – Firsties
2022 Fredericksburg Texas After Action Report (20220514)
Fredericksburg Texas After Action Report
April 25th through April 30th 2022
Fredericksburg Texas proved to be a great place for a Comearound.   We had eight RV's with several attendee who had never been to an RV chapter event before.  Attending were Tom '70 and Rose Wolfe, Michael'87  and Jennifer Weiner, Bob '70  and Libby Perch, Drew'85 and Talisa Jones, , Jim Swoope'70, Bill Moore '72 and  as Firsties, Dale'70  and Su Gange.  We also had several local guests stop by during the week, Bill'63  and Dee Bradford, Pete'70 and Sue Pattrick, Kenneth Wallace '78, and Marc Ferris "70 and JJ Tucker.
When we arrived we found we would have a large exclusive meeting room with plenty of amenities.  We used it for all happy hours, meetings, and several game nights.
Our first event was a Tour of the LBJ Ranch and the outside of the LBJ house (the interior was under repair) The house, while not extremely imposing, was still impressive and worth the visit as was the rest of the ranch.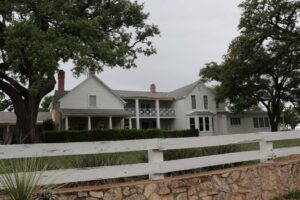 One item of interest was the process that LBJ had of having significant visitors sign concrete stones in the back yard.  Pictured is the one signed by Alan Shepard of Freedom 7.  Around this were many Apollo.
Dinner that night was German food at a noted local restaurant. This was organized, as was the LBJ tour by Firstie Helper Bob Perch.  The picture was taken by one of our several photographers, Michael Weiner.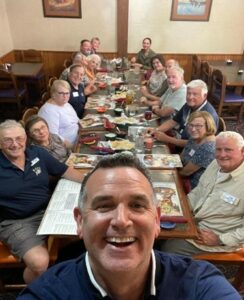 The next morning we had six people for t he bike ride along the Guadalupe River in Kerrville TX.  At the turnaround point to return, we all were bemoaning that the path wasn't longer than the slightly more than eoght miles total.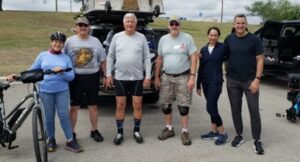 After the Bike ride we toured the "Museum of the Pacific War" which was organized by Michael Weiner.  We had a retired Navy Captain for our docent escorted tour, who provided great information.   There were many displays of interest including a B-25 like Gen Jimmy Doolittle flew to Japan.   A captured Japanese Minisub also gathered a lot of interest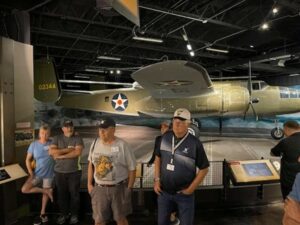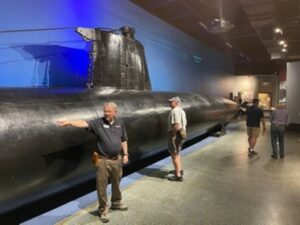 Dinner that night was at a Mexican Food restaurant also organized by Firstie Helper Michael Weiner.  We all decided it was a great choice.
One thing we did that was unique was to hold a separate training session on "How to hold a Comearound'.  I am pleased to say three or four attendees were highly interested and in forthcoming years I believe several will be both attending more Comearounds and planning their own.  We look forward to their growth and enthusiasm within the Chapter
The last day was a day on our own visiting other local area attractions.
Here is our photo will all who attended and a few guests.

The Come around concluded the next morning with a rousing rendition (OK, Maybe that is a bit overstated) of Navy Blue and Gold.     Everyone agreed that Fredricksburg was a great Comearound location and one that we should visit again.
I do not want to conclude without acknowledging the "Firstie assistants" who made it possible to have a well organized event without Su and I ever having visited either the area or the RV park.  Both Bob and Libby Perch and Michael and Jennifer Weiner were of great assistance.  Their support is highly appreciated.
Dale and Su Gange '70, Fredericksburg TX Firstie.
2022 Watts Bar Update (20220315)
Posted: 3/15/2022
HORNSBY HOLLOW 2022 RESERVATIONS – September 19-25 (Monday – Sunday)
Hornsby Hollow Campground now has an automated reservation system we will be using this year! In order to use this system – please review the campground map and choose based upon your power needs and location desires. Your camping location will be reserved via the automated system – Campspot!
Activities for our 2022 Comearound will be at the pavilion area – and Vanessa and I as your Firsties – will be in spot 79. The following sites along the pavilion circle are currently reserved for our USNA Chapter campers:
63-64; 66-69; 72-78; 84; 86-90; 92; 107-109
Please note on the campground map – some of these spots are 30 amp and some are 50 amp. The rest of the spots along the pavilion circle that we do not have reserved – will be occupied by full season campers. If you would prefer a different view and a longer stroll to the pavilion area for Comearound activities, there are spots available along the first circle. Availability for these spots along the first circle will show up when you make your reservation on-line.
From 1 April – 17 April, the campground will release the hold on our reservations – enabling you to make your reservations on line. This is our recommended time for you to make your reservations. You can pick the spot you want, provide your personal information and credit card – all on line, and be set with the camping spot that best meets your needs and desires. As the saying goes – "The early bird gets the worm!" As in past years, the campground is offering our Chapter the "weekly special" of seven nights for the price of six, if you so desire during our Comearound.
If by chance a camper not in our USNA RV Chapter makes a reservation for one of these "reserved" spots during this time, the campground will move them to another spot – ensuring all of these spots are available for our use.
Making a reservation during 1 April – 17 April: Click on the Hornsby Hollow red banner/red box to book a site. Provide your desired site number and personal credit card information. DO NOT pay the additional $10 site lock fee as requested by the software. We will be working with the campground to "lock you into your site" manually after the campground validates with us you are a USNA RV Chapter member. If for some reason you have to cancel your reservation – you will be charged a $15 deposit fee up to 48 hours prior to the Comearound start date. If reservations are cancelled within 48 hours of check-in time, you will be responsible for the $15 fee along with one night of camping.
If you are not comfortable committing to a reservation yet in April, there are other opportunities to make a reservation.
After 17 April – all of the sites not reserved from the above list will go back "on hold" until 1 June. During 17 April – 1 June, you need to call the campground or Vanessa to make your reservation manually. After 1 June, all of our unreserved sites listed above that are not reserved, will be available to the general camping population.
To summarize our check in dates:
1-17 April: Reserve your camping spot via clicking on the Hornsby Hollow red banner/red box on the Hornsby Hollow website: www.hornsbyhollow.com.
17 April – 1 June: Call the campground or Vanessa to manually reserve one of the reserved campsites on hold for the USNA RV Chapter. Hornsby Hollow: (423) 334-1709. Vanessa Hallihan: (410) 991-0253.
After 1 June: Reserve your camping spot on line – nothing is being reserved for our use. Best of luck getting a camping spot.
Weather: September can be warmer than our usual October dates and you MAY want to run your A/C (if you have one). Temps the end of September average in the mid 70's with lows in the 50's.
Please plan accordingly.
Comearound Activities:
While we haven't finalized the Comearound activities at this time, this is a list of our current thinking.
I-75 Raceway Car Races on Saturday, 24 September https://i75raceway.com/
Cumberland Playhouse: The Buddy Holly Story, Thursday, 22 September https://ccplayhouse.com/
Wine Tasting
Bingo
Sweetwater Farm Tour and lunch: https://sweetwatervalley.com/
Soup Night
Flag burning at the Campfire
Patriotic song singing around the Campfire
Several breakfasts, lunches and dinners
Biking, hiking, and kayaking
White Elephant and Chapter Meeting
Questions: If you have any questions or comments, please feel free to email or call.
FIRSTIES:
Tim Hallihan: tim.hallihan@yahoo.com, 443-848-9959
Vanessa Hallihan: vhallihan@yahoo.com, 410-991-0253
2022 Watts Bar Comearound (20220315)
Posted: 3/1/2022
Date: September 19, 2022 12:00 AM – September 25, 2022 12:00 AM EDT
Venue: Hornsby Hollow Campground
Location: 379 Hornsby Hollow Campground Ln, Ten Mile, TN 37880, USA
Firstie:  Tim and Vanessa Hallihan '72
Email: tim.hallihan@yahoo.com
Cell: 443-848-9959
Details to follow.
2022 Key West After Action Report (20220222)
Posted: 2/22/2022
After a year gap because of COVID the USNA AA RV Chapter returned to Key West for a wonderful 9-day event from Sunday Feb 6 to Monday Feb 14, 2022 dry camping at the Truman Annex to Naval Air Station Key West.  The come around was scheduled with the Commanding Officer of NAS Key West by RV Chapter President, Jack Parry ('67) who also coordinated the campground reservations with the NAS Key West MWR organization.  These arrangements allowed early arrivals on Saturday Feb 5, 2022 to help set up the campsite and a few people to linger after the come around until Wednesday Feb 16, 2022 to shut down the campsite.  Tom Wolfe ('70) arranged for base access for all those participating that did not have DoD issued ID cards.  Tom ('70) and Ellen Shields were the firsties who coordinated the events for the plan of the week.
The come around had 42 members and 4 guests attending with 18 RVs.  Those RV Chapter members enjoying the Key West sun and fun were Nita and Jack ('67) Parry, Patti and Jay ('67) Williams, Stevie and Hank ('67) Giffin, Elizabeth and Mike ('67) Currie (without RV), Vicki and Mike ('68) Tkach, Val and Gary ('69) Polansky, Ellen and Tom ('70) Shields, Rose and Tom ('70) Wolfe, Su and Dale ('70) Gange, "JJ" Tucker and Marc ('70) Farris, Melinda and Royal ('70) Connell, Eva and Andy ('72) Wehrle, Allison and Marty ('72) McGee (without RV), Pamela and Lee ('73) Van Oss, Wendy and Kirk ('75) Daniels, Gail and Dave ('75) Penman, Eileen and John ('77) Madaio, Jerry and Kathy ('80) Shanebrook, Daniel ('82) and Angela ('83) Brady (without RV), Jen and Mike ('87) Weiner, Tom ('87) Keane, and Karen ('01) Drake with her fiancé Pete Silaghi (without RV).  Guests included Jim ('72) Salamon, and Barbara and Bill ('67) McCracken.
Sunday 6 Feb
Due to high winds on the preceding Friday our tent was not able to be raised for the opening of the come around, but we obtained permission to use the pavilion nearby to conduct our opening Happy Hour and Welcome Dinner to officially start the come around.
Monday 7 Feb
After a morning of housekeeping tasks such as obtaining the formal passes for those without DoD ID cards and filling out camping paperwork, we gathered at Chico's Cantina for lunch and comradery.  At the afternoon Happy Hour we were regaled by Bob Wolz, Executive Director Emeritus at Harry S. Truman Little White House about the Navy's influence on the Little White House and many anecdotes about Harry Truman and the Truman presidency.
Tuesday 8 Feb
We started the day with a group tour of the Army Special Forces Underwater Warfare Operations School on nearby Fleming Key.  We knew we were with elite folks when the Sargent Major jogged down the road to unlock the gate to let one of us into the compound then jogged back ahead of the car.  It turned out that our briefer was a Woopoo from USMA '09 so he got a rousing "Beat Army" salute but in all seriousness it was informative to see what they do and sobering to walk down their corridor of honor.  We celebrated a good day with a Margarita Happy Hour with Tom Wolfe ('70) doing the mixing with willing helpers.  So when it came time for the group photo we were properly loosened up for still pictures.  A grill pot luck followed with conversation carrying on late into the night.

Following the evening a BOLO was issued by Jay Williams with comments that followed:
Jay:
Ahoy Campers!
Did anyone find a silver serving spoon last evening after the grill night?
It was mistakenly left behind by the Curries.
Please let me know and I'll come retrieve it!
Update from Jay:
Spoon was captured late last night and is now in custody.
An accomplice, mini tongs with blue silicone ends remains at large. Reported to be armed and dangerous.
Huge law enforcement presence in the area.
From Sheriff Shanebrook
Jay,  Mini tongs are in custody. After unruly behavior overnight, he is now cuffed and restrained to a large grey plastic salad bowl. Bail has increased dramatically due to Tong's perceived danger to the Conch Republic.
From Kirk & Wendy Daniels:
The grey salad bowl most likely is missing from our nest of bowls.  We will claim it again since it was orphaned last night!
From Tom Wolfe
Good to hear these vagrants have been captured and owners identified. Vagrancy and delinquency are not tolerated within the Chapter. We simply place offenders who taken into custody but remain unclaimed on the auction block at a subsequent white elephant sale!
Wednesday 9 Feb
Although we had planned a recreational bike ride in the morning, the weather did not cooperate between rain and high winds.  However, it cleared up in the nick of time for a wonderful sunset sail with Sebago Watersports.  The captain (who was a nifty boat handler) with a few words from Jay Williams ('67) took us just offshore from our campsites before jibing to position the boat to watch the setting sun.  Between the carried aboard snacks, the free flowing wine, beer or champaign, and crew members taking our pictures, we had a great time.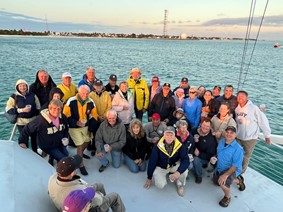 Thursday 10 Feb
At our Chapter General Meeting, Dr. Sofi Loomis ('99) joined us to present the USNA Alumni Association and Foundation Update.  Sofi is our chapter's contact within the Alumni Association and she demonstrated her commitment by becoming a member of the RV Chapter and actively participated in our White Elephant fundraising auction led by auctioneer Jack Parry ('67).  In the afternoon we had a fun game day with a four-event field activity (frisbee toss, golf pitch, football toss, and corn hole toss) while others did a fun Farkle game under the tent.  The day was concluded with an outing to the Better Than Sex Dessert Restaurant for some delightful and intriguing desserts and drinks.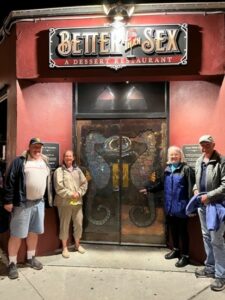 Friday 11 Feb
This was a planned no formal chapter activity day to allow participants a free day to choose to do whatever they wanted.  John Madaio  set up an impromptu tour of the USS Savannah LCS 28 which had just arrived inport Key West a few days before.  The USS Savannah is the newest commissioned ship in the fleet and the tour was wonderful.
Saturday 12 Feb
We started this day with a Spouse Meeting since much of the come arounds involves spouses who take on a large load of work either as firsties or helping with various activities.  Marty McGee, a local Key West resident and member of the RV Chapter, led a three hour fun bike ride through old town Key West that started and finished at the come around tent and included a refreshment drink stop at the Casa Marina Key West Resort.  In the evening we had a fine dinner at a long table at the Stock Island El Siboney Restaurant serving Cuban cuisine.  We sat at a long table and were a boisterous crowd.
Sunday 13 Feb
We had intended to have a breakfast bash but wind and rain made it impossible unfortunately, but the rain did subside later in the day to allow us some fine, if not slightly windy, weather for a grill pot luck dinner.  We saved appetizers for the Super Bowl game and thanks to Mike Tkach's outdoor 50" TV we gathered at the tent to watch the Super Bowl LVI.  The commercials were good, the half time show full of stars and the game was good, certainly for Ram fans.
Monday 14 Feb
Valentines Day was celebrated with some candy kisses and danishes as people gathered before departing the come around.  These are always somewhat sad departures after a fun and socially active week but all part of the RV character – until we meet again…
California Comearound (20220106)
Posted: 1/6/2022
Tentative — dates are either May 20 through 24th or May 23rd through May 27th.
We really need more response from people who would attend in California along with a preferred location. 
San Diego has been suggested but other locations would be considered. 
Jill'80 and Rick are helping in planning. 
Please let me know if you are planning to attend and any preferred location/RV park, to help draw more local members.  We need more attendees to have event.
Arizona Comearound (20220106)
Tentative — dates May 9th through May13th
Arizona is still tentative.
The primary location under consideration is the Cactus Country RV Resort in Tucson AZ.
Please do not call for reservations yet. Local assistance and knowledge is being provided by Norman'60 and Liz Mins.
More details will follow within a couple of weeks.
Do notify us if you are planning to attend. We need more attendees to have event.
dandsgange@comcast.net Dale and Su Gange – Firsties
Texas Comearound – April 25th through April 30th (20220222)
Texas Comearound. April 25th through April 30th.
We have selected Fredericksburg TX as the location for the TX comearound.
We will be at Oakwood RV Resort.
April 25th is the arrival day followed by three days of events and April 30th will be departure day.
It looks like there is much to see and do there, along with a few "Happy Hours" as we get to know each other of course.
Assisting in the planning are Bob'70 and Libby Perch, and Michael'86 and Jen Weiner.
Please call Oakwood RV Resort at 1-830-997-9817 for reservations. Mention the US Naval Academy RV Chapter. (we have a military discount, but are too small for the group discount) We have a group of sites reserved.
Please also notify us if you are planning to attend.
dandsgange@comcast.net Dale and Su Gange – Firsties
Upcoming Events
There are no upcoming events.